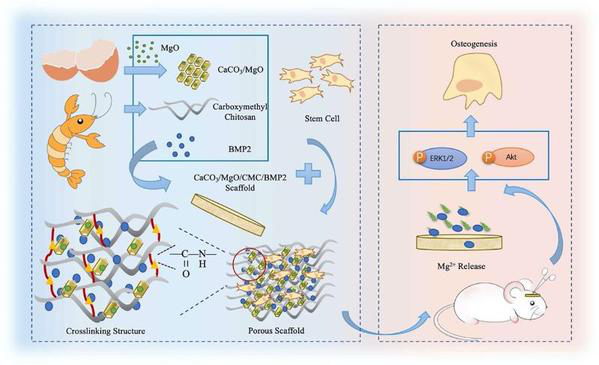 Prof. Yang Dapeng and his team from School of Chemical Engineering and Materials of QNU recently announced their innovative eggshell-derived nanocomposites for bone regeneration in collaboration with a team led by Prof. Fan Xianqun from the Ophthalmology Department, the Ninth Affiliated Hospital of Medical School of Shanghai Jiao Tong University . Environmental-friendly, biomimetic and osteo-inductive, this material provides solutions for the further development of scaffold materials in bone tissues engineering. The innovative research entitled "Integrating eggshell-derived CaCO3/MgO nanocomposites and chitosan into a biomimetic scaffold for bone regeneration" was published online in Chemical Engineering Journal(IF 10.652), a prestigious international journal.
Eggshell is common waste in the daily life. With its accessibility and superior biophysical features, eggshell is of important value in the field of catalysis, energy and medicine. As a kind of natural biomaterial largely comprised of CaCO3, eggshells are rich in Mg, P, Si, Sr, Na and other microelement, which also plays an important role in promoting angiogenesis and osteogenesis. However, its research in the field of bone regeneration is rarely carried out. In response to this, Yang's team, specialized in the biological nano-material research, together with Fan's team, being apt at orbital bone regeneration research, proposed that eggshell particles could be used as a kind of bio-fillers and subsequently fabricated a biomimetic scaffold for bone regeneration through the chemical crosslinking of the carboxymethyl chitosan (CMC) .
The study aims to develop a kind of a biomimetic active scaffold, so as to provide a new idea for the regeneration and treatment of bone defects.
The paper was published in Chemical Engineering Journal, a prestigious journal specialized in the field of engineering technology, with its first authors being Dr. Huang Yazhuo and Dr. Ji Yongrong and the corresponding authors being Prof. Yang Dapeng, Ruan Jing and Fan Xianqun.
Yang's team has long been committed to the research in efficient conversion and utilization of biomass resources as well as processing and transformation of farm, forestry and marine products. In recent years, to solve the environmental problems caused by mass waste of oyster shells and eggshells, nanotechnology has been adopted to modify the surface of these materials, thus to achieve the high-value utilization of those low-value materials in the field of environment, medicine, sensing, industries and so on by making them antibacterial, catalytic, adsorptive, osteoinductive, etc. Previously, with academic success being achieved, including more than 10 papers in the field of eggshells reusing research being published, a significant number of patents being authorized, a pilot base co-built with the local company of Xufeng Powder being established, as well as more than 10,000 tons powder with high performance being produced annually, Yang's team has brought great economic and social benefits to enterprises.