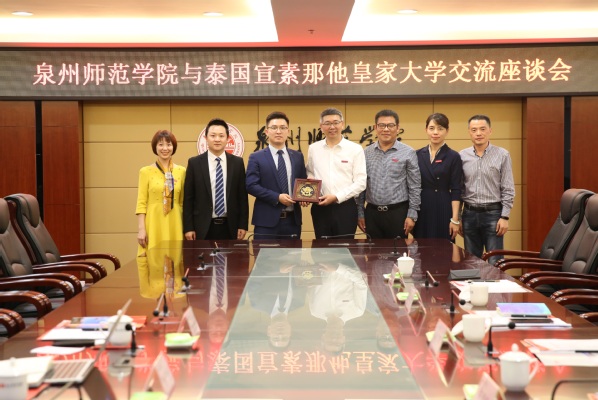 On November 5, Zhang Dejun, vice president of the School of Innovative Management of Thailand Suan Sunandha Rajabhat University (SSRU), and Zhang Ming, director of SSUR's China office, paid a visit to Quanzhou Normal University.
Vice president Huang Jiangkun welcomed the guests on behalf of QNU. He made general introductions of Quanzhou city, the QNU's achievements in implementing the three-step development strategy, and especially, in active response to The Belt and Road Initiative, exchanges and cooperation with foreign universities based on its characteristics. He also noted that Thailand, as an important participant in The Belt and Road Initiative, enjoys a close connection with China and forges a deep friendship with Chinese people. He hoped both universities would be able to fully tap the advantages, to explore special cooperation projects, and to build a platform for further exchanges. All of these would make joint contributions to the educational and cultural connectivity between China and Thailand.
During the visit, the delegation was briefed on QNU's efforts in international exchanges and Chinese education. Zhang Dejun, after commending QNU for its achievements in Chinese education, expressed the intention to carry out comprehensive and in-depth cooperation on behalf of SSRU. Both sides also had further discussions on the establishment of the Confucius Institute, overseas internships for students, short-term language and cultural activities, and joint education programs.
(Office of Foreign Affairs)